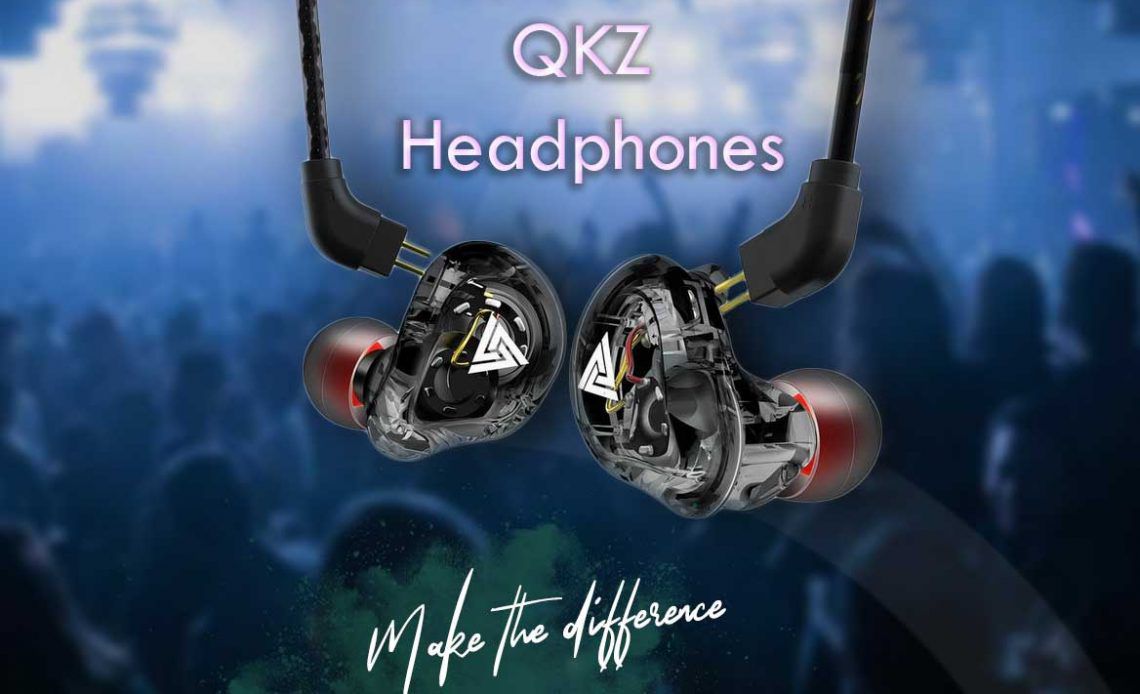 Best 2019 QKZ Metal Bass Headphones Buy Online in Europe
If you look into the electronic accessories market which is rapidly growing in the past decade in 2017 to 2023 according to the CISION PR NEWSWIRE survey headphone market will growth 7.31% as compared to other market and every coming year bring finest and innovative products.
Today, Let's talk about German Technology and manufactured in China the best in affordable metal bass innovative headphone company 'QZK' German innovative earphone brand which sound compete with the other expansive brands.
Itself QKZ products review is showed the customer satisfaction and give the authentication that product is proven the very good quality also had a large verity of headphone selection in which customer can choose according to their needs
What are you looking for in your earphones?
If you are music lover and doesn't want to spend much money on the expansive headphone and sound quality really matters for you then QKZ is the best choice is for you the DJ beats, high bass and Stereo Hi-fi Dual mode speaker with noise cancelling headphones, HD microphone, Wireless Bluetooth, waterproof headphone, low-frequency high pitch full-range open reproduction emphasizing overall accuracy. In addition, the other factors are including for comfort, isolation, portability, weight, exactly fit in your choice.
Nonetheless, QKZ review are spared the positive vibe on online shopping customer but always have some inconvenience factor knock the door such as where to buy the original QKZ product and delaying on delivery ruin your mood, so don't worry here I also give you good advice the for online shopping in Europe where you can easily find the QKZ genuine product and also on time delivery that is Nuevotix.com 'Smart Way to Buy online'. Must visit and get the deals in Europe or
stereo headphones for sale.
Why QKZ is Best Earphones?
The Company itself proven the high-quality electronic accessories is not a dream, if you are a music lover and then have a look into the product features
The internal structure is incredible. The metal audio cavity decreases the cavity resonance impact so that better audio effect is delivered the stereo bass sound It features 10 + 8mm – Speakers as balanced armatures. They offer an amazing listening experience that the dynamic power remains unsurpassed and the clarity is too sizzling highs from deep Bass and Dj Beats.

It offers the perfect acoustic structure, featuring high-speed response, effective sound quality, and comfortable wear. There are magnetic Bluetooth earphones as well. The ergonomic design offers natural ear fittings reaching your ear canals that you can listen and enjoy music freely.
There is in-line microphone enabling receiving calls without undeterred sessions and you can also manage your music, take calls easily and enjoy this musical extravaganza. Universal compatibility and multi-function button, skip tracks, activate voice control, sound control button, sound down and up features and lots more. This is a high-end value product offering great quality.
It features earbuds of 3 pairs, compatible earbuds to suit latest generation iPhone, iPod, and iPad. It works with all tablets, androids, mp3 players and any related device featuring a 3.5mm standard jack, and all this is available in astonishingly low price. The most important factor is the price which is incredibly low most of the models come in 4€ to 30€ of the range.
Plethora of choices
If you are looking for best deals of QKZ product online in Europe which provide the premium benefit in Noise cancelling, Dynamic sound, low price, dual speaker, waterproof, and wireless with Bluetooth then they are in plenty.
Here are the few product suggestions that will surpass your expectations include:
Compatibility with Devices
QKZ Earphone compatible with Android and OS no matter what version you have, best use in Apple, Samsung, Huawei, Xiaomi, OnePlus and other communication devices are reported.
Equipped with a dual-unit dynamic speaker
It's small and exquisite cavity contains two dynamic units for achieving more exquisite music texture, bring the same sound quality enjoyment as at the screen.
Dynamic too Much Bass
The QKZ Earphones innovative technology probably takes account in best low price bass dynamic headphone in 2019, the heavy bass sounds are pretty characteristic of the genre. The QKZ VK1, VK3, CK9 dual driver metal bass dedicated subwoofer will blow your mind.
German Award Winning Company Technology
The work of German Red Dot Award famous industrial design award recognizes the beauty of meticulous and sophisticated industrial designs works to deliver the quality equipment and QKZ Earphone Products are the up bring creative innovation to prove the Dynamic fast-growing products.
Benefits to buy from Nuevotix
Buying from Nuevotix.com has a fair share of benefits is the best place to buy earphones. Regardless of what you buy, whether it is a headphone or a sports gear, you are assured of receiving the product delivered on time as described. You can go through the QKZ earphones product reviews, and then consider placing your order.
Apart from this Nuevotix.com is highly preferred as it includes no extra taxes or customs duty. It offers free shipping within Europe, buying protection 100%, and 30 days' exchange or return.
Last, but not the least, people receiving the earphones need to check if they have received the same. Do you want to look outstanding and proud? This is an upbeat choice among earphones, feel the pride of being the owner of these earphones.